Monos Branded Experience


Project brief: A set of clients were seeking to create a physical branded experience that serves as a platform for their existing products and/or services. First, gain an understanding of company's identity, brand, audience, competitors, and market. Then, focus on the the attention to the study of site, form, interaction, communication, and materiality, while considering the emotions, motivations, and impulses that influence decision-making.

Part 2 of the project was developing an additional brand touchpoint. My UX/UI work for it is presented at the bottom.

Role: Spatial experience design, Brand research, Physical & Digital prototyping, Client facing presentation
Collaborators: Luca Cao
Duration: Part 1 - 1.5 months, Part 2 - 8 days
Tools: Figma, Keyshot, Rhino, Unity, Adobe Illustrator
Chosen client: Monos

MONOS CLIENT RESEARCH AND BRAND IDENTITY
Monos is not the story itself, it's a part of the story that makes your experience richer.

We started off the project by conducting in-depth research into Monos, a high-end travel and suitcase company based in Vancouver, Canada. By doing so, we understood their core values, visual identity, audience, market, and competitors.

We established that Monos' brand identity is about selling the idea of a calm and mindful lifestyle. The neutral color palette as seen in their official photos above helps communicate this purpose.

After gaining an understanding of Monos and breaking down its brand values , we developed a client-facing presentation to pitch to Monos. The following slides highlight the takeaways from our research:

---
---
MOODBOARDS

We developed 3 seperate moodboards for different overarching aspects of the Monos pop-up store (Texture, Location, and Lighting).

We chose a color palette that shifts from neutral light tones to darker desaturated tones to represent the sophistication and minimalism of Monos, invoking a sense of calmness and mindfulness. The somber, pastel colors are also intended to emotionally appeal to the audience, combined with sophisticated light marble like textures, making the audience feel like they are in an open and calming place.
---
INTENDED VISITOR TAKEAWAYS FROM EXPERIENCE



- People leave feeling inspired and heightened perception of mindful travelling

- A closer connection to Monos and its love for bringing meaningful stories home

- A deeper understanding of Monos' versatality



---
CONCEPT DEVELOPEMENT
The Monos pop-up store provides the visitors with an immersive experience for appreciation and discovery of a new meaning of travel.
The following details were established to provide the visitors with a
personalized
and
high-end
experience, which aligns with the Monos belief of providing a tailored experience to their customers.
Number of employees in store:
1
By appointment only:
up to 4 people
---
PARTI DIAGRAMS: REFINING CONCEPT AND INTERACTIONS



We developed the final layout including decisions about the 3 parts of the experience.



FINAL ITERATIONS OF PARTI DIAGRAM


---
CHOSEN LOCATION FOR POP-UP STORE

Market Square in Downtown, Pittsburgh
We chose this location because of several reasons:

- The target demographic (office workers who travel regularly) is widely present in this location

- There is heavy foot traffic, especially during holiday seasons

- It is a social and cultural hub

---
RENDERING THE SPACE USING RHINO AND KEYSHOT

Monos logo on the roof because there are high-rise buildings all around Market Square, therefore helping Monos reach more eyes.
Developing in Rhino and adding textures and rendering in Keyshot helped bring the store to life.


---
IMMERSIVE ROOM PROTOTYPING (UNITY)



We prototyped the Monos immersive room experience by setting up location trackers in a room and connecting them to Motivate Tracker and Unity. We started off with creating a boarding pass using laser cutting, engraving, and spray painting. The following photos show the boarding pass with trackers.






The video below shows the Monos boarding pass being tracked around the room using Motivate Tracker.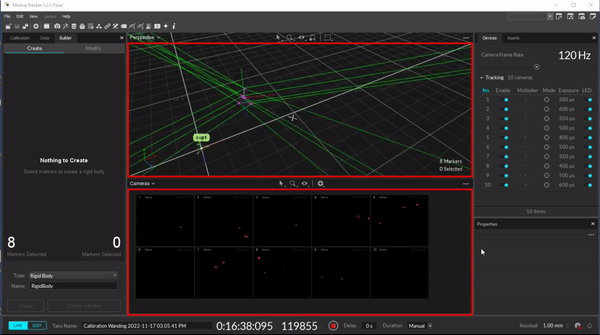 Next, I used Rhino to design a model of the room with motion trackers. I imported this model in Unity and added game objects in different parts of the room that would play unique instrumental sounds when the user walks near them. Each game object is meant to represent a different country on the world map.
FINAL IMMERSIVE ROOM PROTOTYPE VIDEO



---
CONNECTING THE INSIDE AND OUTSIDE

The video that is being displayed in the immersive room will also be displayed within the Monos logo on the exterior wall in real time.

This is meant to serve as an attraction for the outsiders and encourage them to check out the pop-up store. For example, if the visitors inside the immersive room are experiencing The Louvre, Paris, then the same video will be played within the Monos logo on the outside as shown below.


---
PHYSICAL MODEL

Materials: Foam core, paper, acrylic glass, 3D Printed suitcases, wood, hot glue


---
DIGITAL RENDERS
Used
Rhino
to design the space and
Keyshot
to add textures and render it.
---
---
PROJECT PART 2: DEVELOPING AN ADDITIONAL BRAND TOUCHPOINT
For this part of the project, I designed a Monos travel app for mobile.
---
WHY AND WHAT?
Monos is about exploring the hidden gems of a location that represent the identity of that place.

Most travel apps are about visiting the most popular spots in a city, for example, if you go to London, they will tell you to visit The Buckingham Palace, The Big Ben etc.

The Monos travel app is different since it presents the user with spots that are off-the-grid and are a true representation of the location's culture and identity. This aligns with Monos' belief of mindful travelling and finding a new meaning of travel.
---
SITEMAP
I designed a sitemap to understand the overarching user flow and to define all the pages of the platform.
---
LOW-FI WIREFRAMING


Next, I designed low-fi wireframes for the pages to start filling in the detailed aspects of the experience.
---
DESIGN STYLE GUIDE

I used the pre-existing Monos design guidelines for the Monos travel app.


---
FINAL PROTOTYPE
FULL PROTOTYPE WALKTHROUGH
---
NEXT STEPS FOR THE MONOS TRAVEL APP
Since this part of the project was only 8 days long, I was not able to design a fully fleshed out app, rather, just a glimpse of what it would look like. If I had more time, I would:

- Conduct user testing for the final prototype with Monos travellers

- Add more features to the app like "add a destination" and "review and feedback" page

- Develop a functional prototype through coding
---
REFLECTION
Through this project, I appreciated researching a brand and embedding their values and identity in a spatial and digital experience.

This was my first project where I got to study an actual client and extract and apply the brand related findings into my work. With part 1 requiring collaboration with a partner, I enjoyed bouncing ideas off each other for various design decisions and coming up with strategies on how to prototype our ideas.

My favorite part of the project was working in the tech room at Carnegie Mellon to prototype the immersive room experience. I am grateful for this opportunity and I believe that it took this project to the next level. The hardest part was finalizing on a spatial experience concept; my partner and I spent so long discussing the pros and cons of the multiple concepts that we came up with and it required a lot of feedback from our professor to make a decision and stick with it. Through this, I also realized the importance of constant iterations and strong communication since my partner and I usually worked on different aspects of the user experience so it was important that we were on the same page.

Moving forward, I hope to further iterate on the Monos travel app by interviewing the target user (Monos travellers) to validate design concepts and conduct user testing with the prototype. Overall, I am proud of this entire project and I am looking forward to apply my learnings in future projects!

---